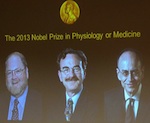 It's been some time since we've written but we'll now be getting back to regular updates. Last week's big Nobel Prize announcement for medicine/physiology seemed the perfect opportunity to kick things off again. The award went to three scientists who discovered how cells in the body transport material – research with major potential implications for progress in areas like diabetes and brain disorders
So why is the Nobel Prize inspiring a blog, here? As with most Nobel Prize research, animal studies were integral to the researchers' success. In this case, yeast, cows and genetically modified mice were involved in the research process. Looking back, nearly all Nobel Prizes in Physiology or Medicine have required some form of animal research. According to Americans for Medical Progress, in the past 34 years, all awards but one have been dependent on animal research.
The impact of this year's prize-winning discovery could be big news for patients suffering from diabetes or brain disorders. The three researchers discovered that vesicles – membranous structures that store and transport cellular products – transport these materials to a precise target, similar to a fleet of ships. This is crucial to many processes – from the release of hormones in the body to brain communication. Defective vesicle transport systems are associated with diabetes and brain disorders – and knowing more about them could help us improve treatment options in these areas.
So congratulations to James Rothman, Randy Schekman and Thomas Sudhof for their Nobel Prize win, and for bringing research a step further.
What are your thoughts on the big Nobel Prize news? Let us know in the comments section below