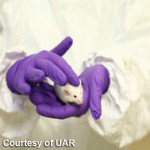 Much of the debate over the use of animal testing in drug development is a cocktail of facts, emotions and ethics. Regulators have tried to strike a balance between these factors in the forthcoming EU Directive 2010/63/EU, but there is still considerable pressure to stop animal testing altogether. What would happen to drug development, and where would it take place, if animal testing were banned? It's difficult to find the 'right' answers, particularly when rare, or orphan, diseases are involved.
Orphan diseases, affect not more than 5 in 10000 people, With some 29 million sufferers in the EU;
The EU offers the pharmaceutical industry some incentives to investigate rare illnesses. According to the General Director of LEEM, Philippe Lamoureux, European-backed research into drugs for the treatment of orphan diseases has led to 68 new medicines approved between 2000 and 2011. But there are between 6,000 and 7000 different rare diseases, so these drugs help just a fraction of sufferers.
Where does animal testing fit into the orphan drug equation? It is present in preclinical trials – as is the case with all drugs – but would it be right to ban the use of animals in research when patients have so few treatments to choose from in the first place? The Journal of Animal Ethics proposes that doctors tell patients, or their carers, the role that animals played in the development of their medicines. If sufferers of rare illnesses had access to this information, would they refuse treatment?
Stopping experimentation on animals in the EU probably wouldn't stop European patients using drugs that have been tested on animals. The problem would simply be relocated, with testing taking place further away, in countries with less stringent regulations. Banning animal testing could also lead to a slowdown in research, as scientists consider alternative means of testing. The question remains: would sufferers of rare diseases be able to wait?
Some believe that not enough is being done to develop orphan drugs. According to work published by three Italian pharmaceutical researchers, a lack of testing on recommended animal species may have affected the investigations of 24 molecules, candidates for treatment of rare diseases. So when it comes to orphan drugs, should there be more, rather than less, research?
Sufferers of orphan diseases already face limited treatment options. Take animal experimentation out of the equation, and drug development options shrink even further.